The Lady Peel carried George Payne (1824) to Victoria in 1848. He was single at the time and the first of the Payne siblings to come to Australia.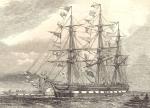 The British ship LADY PEEL was built at Quebec by Thomas Lee, in 1843. 567 tons, 119 x 27.2 x 20.4 feet (length x beam x depth of hold); 1 deck, square stern, figurehead of a woman. She was re-registered at Falmouth, England, in April 1844. The annual volumes of Lloyd's Register of Shipping for 1844/45-1860/61 give the following information (the vessel is omitted from the annual volume for 1849/50
Her master in 1848 was Captain L.R. Fraser; the surgeon was Dr. William Dease. Her end was sad. She was abandoned in the North Atlantic in December 1872; according to the Wallace Ship List. Unfortunately, the Ship List does not give a reason for the Lady Peel's abandonment.
The ship left London on 21 October 1847 and Plymouth 8 November 1847. I think we can assume George joined the ship in Plymouth which was closer to his home. The Lady Peel arrived in Port Phillip Bay on 16 February 1848 after a voyage of 100 days (14 weeks and 2 days).
Shipping information
Ship "Lady Peel", Tonnage 491, Colony Port Philip
Contract Price £11 18s, Can Legally carry 196, Brokers Toulmin, Captain Not given Interestingly the ship carried 218 passengers an over-burden of 22 passengers
Surgeon- Dease, Date to be ready 21/10/1847 London, Date of Departure 7/11/1847 Plymouth
Number embarked 216 - English 107, Irish 107 and Scot 2
Births on Voyage 3, Deaths on Voyage 5
5 losses at sea was considered an extraordinary small number, it was not unusual to lose 10% or more of passengers. One of the five deaths on board was Cath. Gamble, Infant, Bloody Flux (this was Robert Hargans niece and daughter of Mary Gamble (Roberts Sister)
Further miscellaneous information
from the Book - "Perilous Voyages to the New Land" by Michael Cannon
Chapter 16 titled More problems with Matrons and surgeons
After all the troubles involving matrons and surgeons on vessels sailing to Australia, the Emigration Commissioners in Britain could have expected to take extreme care with appointments. Unfortunately, in many cases they did not. When the 600 ton barque Lady Peel arrived in Port Phillip on 16 February 1848, immigrants complained that the surgeon, Dr William James Dease, had often been drunk while on duty, leading to scandal and disorder. At the subsequent inquiry, Captain Robert Laurence Fraser admitted that he had been forced to deprive the surgeon of the custody of the medical comforts, including wine, brandy etc. As the Lady Peel anchored off Williamstown, 24 year old Mrs Mary Dollard from County Derry gave birth to a boy, Mr Dease left the ship immediately, 'went to lodge at a low public house, and was seen about the streets in a state of intoxication.' He didn't bother to return to see how Mrs. Dollard and her baby were progressing. La Trobe reported Dr Dease as 'totally unfit' for the service, but reluctantly granted him half the normal gratuity after he had drunk himself into a state of 'almost utter destitution'.