The Golconda carried Charles Payne, his wife Mary Ann Palmer and 5 of their 7 children to Sydney in October of 1858. During research we have found a descendant of Ellen Davies who shared passage with Charles and Mary Ann. That descendant is Robert Mote and you may view his website at OziGen (Australian Genealogy).
The Captain was a Mr. Montgomery who did the best for his Company, if not for his passengers. When travelling to Austrlia in 1858, he chose to take the faster, but more dangerous, southern route. The course went from England generally south-west to Valpariso between Cape Horn and the Cape of Good Hope. There was a brief stop for revictually (ie fresh food and water) then they picked up the winds sweeping from west to east well below the Roaring Forties. The area was subject to storms, icebergs and the forever howling winds. Imagine the passengers in early spring in Antarctic waters. Would they have been prepared for the cold?? I doubt it. It must have been a miserable journey for them and how grateful they must have been when the ship finally turned north and sailed up the Eastern Coast of Australia to Sydney. Did they smell the eucalpyt on the breeze?? Did they see bush fires raging along the coast as Captain Cook did??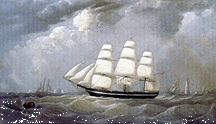 Outward Bound, January 17, 1853, Golconda

by George Ottinger
The following information was provided by Mrs. Eileen Edwards, Assistant Curator and Archivist at the Merseyside Nautical Museum in England: Golconda: Built at St. John, New Brunswick in 1852, a wooden vessel of 1031/1087 or 1124 tons (due to changes). She was ship rigged with two masts, three decks and a woman figurehead. Her owners were William Nollis Anthony, Thomas Robinson and James Harmion. her Master was G. Kerr. She was lost in the Gulf of St. Lawrence, in ice 18' off C. Ray, NFL, January 5, 1872. Information extracted from: Lloyds List and Index, Liverpool Customs and Excise Shipping Registers and the Captain Beard Collection.
The following information was obtained from an internet site entitled: "LDS Sailing Vessels and Steamboats": Ship Name: Golconda; Type of Vessel: Ship; Registry: British; Tons: 1124; Master: G. Kerr; Number of LDS Passengers: 464; Departure from: Liverpool; Departure Date: February 4, 1854; Arrival Port: New Orleans; Arrival Date: March 18, 1854; Sailing Days: 42; Leader: D. Curtis.
.